Bill has dedicated his career to inspiring organizations to win. He motivates leaders to develop a clear vision, identify the critical elements for success and implement the right process to achieve their goal.
Bill's twenty-five years of successful leadership experience and its many valuable learnings provide the basis for his captivating programs, creating an uncommon advantage for his corporate clients.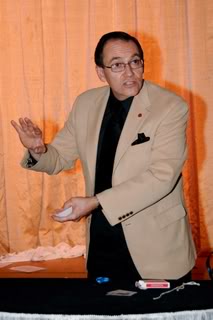 In addition to being a skilled speaker, successful team leader and recognized technical business manager, Bill is an accomplished master magician and sleight-of-hand artist. He uses his professional entertainment experience and magical talents to deliver a high energy, motivating presentation using illusion and sleight-of-hand to reinforce his message and make it memorable. Bill custom designs his upbeat motivational program to fit your meeting by weaving his experience into his motivational topics.
Many clients also use Bill beyond the keynote to be the "thread" that carries a conference theme through the course of an entire event. This may involve Bill in an emcee role, facilitating breakout sessions, providing after dinner entertainment and doing short mini-presentations throughout the event.
When you blend Bill's extensive leadership skills and business knowledge together with his magical entertainment, you have the perfect formula for your next conference or business meeting where delivering the right "Message with a Meaningful Edge" is YOUR key to success.