Service Organizations (Rotary, Kiwanis, Lions, etc.)

How do you become a successful growing service club?  It's all about VISION and TRUST built on a rock-solid base of POSSIBILITY THINKING.  The leadership style, club dynamics and projects that were successful in the past are no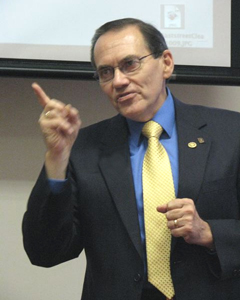 longer working and you're losing more members than you attract.  Why?  Because people today are joining service organizations with different expectations than they did years ago.  "Whatever / Whenever" has become "Hands-on / NOW!"
This thought-provoking program addresses these issues in today's terms.  Bill explores the positive reinforcement required to build TRUST, encourage the heart and let your members know their energy, talents and enthusiasm are needed and most importantly appreciated.  You'll learn how to develop a creative environment with VISION and an energy-vibe that keeps members engaged.
Bill's unforgettable message is a unique combination of real life experience and proven techniques that will increase effectiveness within your service club, region, district and zone organizations.  He brings his successful organization leadership skills and magical entertainment to center stage, and exposes the secrets of The Magic of Service Clubs.  This program is designed and especially well suited for Rotary, Kiwanis and Lions service organizations at all levels.
It's time to take action and get your service club back on track.  Imagine how powerful your team will be when everyone is inspired with the same vision.  The renewed energy, excitement and commitment will improve your organization in ways you've only imagined.  Your members need VISION.  They need FOCUS.  They need LEADERSHIP.  They need YOU.  And they need it NOW!