(Service Organizations (Rotary, Kiwanis, Lions, etc.)
A club or organization is only as effective as its programming.  The single most important element that drives a club's success is the quality and content of its programs.  This is what brings existing members to meetings, improves member retention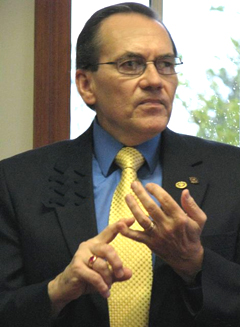 and incents visitors to join.  Look at your last three club meeting programs and ask yourself … "What was the take-away for our members and guests at these meetings?"  If there was nothing of importance presented that inspired the attendees to talk about the meeting later that day and into the next week, why would they want to come back?  The answer's simple really.  Give them what they want.
This program explores these critical success factors:
    Importance of Program Strength
    Successful Program Elements
    Advanced Planning
    Determining Member Interest & Club Needs
    Program Development
    Speaker / Presenter Resources
    Program Assessment
The Secrets of Effective Club Programming takes an in-depth look at these critical success factors and their supporting practices.  Together, they provide you with the tools necessary to transform an ordinary club meeting into an extraordinary event containing value, excitement and most of all … FUN!  You can never underestimate the "Fun Factor".  It doesn't matter if your club is urban/rural, large/small, professional/social, denominational/non-denominational … and the list goes on.  Without regard to club structure or membership demographics, this process and these techniques work.  This program is designed and especially well suited for Rotary, Kiwanis and Lions service organizations at all levels.
Let Bill bring his successful organizational skills and magical entertainment to center stage, and expose The Secrets of Effective Club Programming.  The results you'll achieve by applying these easy-to-learn, simple-to-perform principles will absolutely astound you.